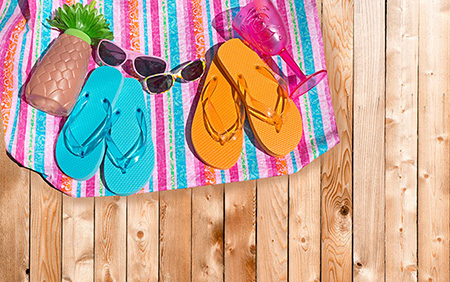 Whether you are driving to the beach or traveling abroad, being prepared is an essential part of your journey. One of the most important elements of traveling is making sure you have the proper payment tools packed with you. Bank of Clarke County offers a variety of these products and services, along with some helpful tips before you go.
If you will be using your Bank of Clarke County Debit Card as your primary form of payment, contact our debit card department at 540-955-2510 at least 24 hours before you leave. Let us know when and where you will be traveling in order to avoid declined transactions or fraud alert calls for out-of-the-ordinary transactions. Due to fraud restrictions for certain countries, this is very important for international travelers.

We have standard daily transaction limits for cash withdrawals and purchases. You can request limit increases that will be effective while you are traveling.
Check your available balances before you leave. Be sure to deposit or transfer an appropriate amount of money into the account used for debit card transactions.
Debit card purchases are restricted to PIN-based transactions in some foreign countries. We can inform you whether your travel plans may be affected by this restriction.
If your Debit Card is lost or stolen while traveling, immediately call 800-554-8969.

We always recommend carrying at least two (2) payment products, in addition to cash. Bank of Clarke County offers a full line of Credit Cards through a partnership with Elan Financial Services, Inc. Please visit any branch location or Credit/Debit Cards for more information.
Record important information from the debit and credit cards you will use while traveling. For example, take pictures of the front and back of each card. This will allow you to access the customer service information on the back as well as the account information on the front if you need to report it lost or stolen.
We can assist you with obtaining a nominal amount of Foreign Currency before you depart for an international trip. It may take five (5) business days to process an order. Please visit any branch location for additional information.