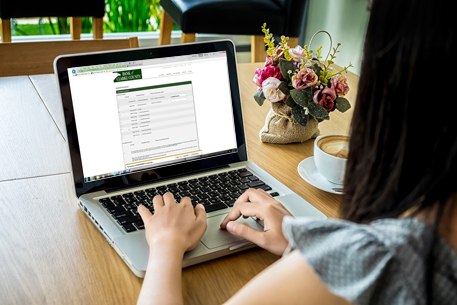 EagleOnline Banking gives you 24-hour access to real-time account information from the convenience of your personal computer or mobile device. EagleOnline Banking is convenient, easy to use, and more secure than ever.
Here are just some of the benefits to you:
Check your account balance(s), pay bills and make transfers right from the Home Page
See real-time account balances
View transaction images
Access 18 months of account history
24-hour access to your account(s)
External Transfers
Convenient enrollment to Mobile Banking (app, browser, and text)
Be notified of activity on your account by setting up specific Alerts
Enroll in e-Statements and have access to several years of account statements
Safe and secure
Cash Management Online Banking
Account Aggregation
Get the benefit of viewing and managing your total business relationship by combining all your business accounts under one convenient log in. Convenient access to multiple accounts allows you to manage the finances of your company by easily viewing account activity, balances, payments and more!
Real Time Funds Transfers
Manage your company's finances at the click of a button using the Funds Transfer function of Cash Management Online Banking. This function will make it easier for you to fund your payroll, pay bills and make loan payments by providing a real time environment for posting funds to your account. Saving you time and money by not having to call or stop by the bank.
Multiple User Capabilities
Cash Management online banking gives you the ability to create and manage additional employees who you may want to access your accounts. From your Office Manager to your Accountant, you can control how much access or functionality is given to each person.